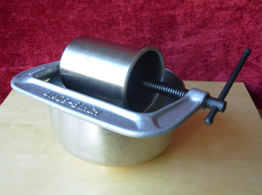 Our lotion bar, Myronaturals Moisturizing Bar, has proven to be a very effective natural remedy for many people with chapped lips, dry skin, itchy skin, and dry, cracking hands and feet. It is made with natural, high quality, mostly organic ingredients that provide moisturizing, healing, antibacterial, anti-fungal, antiseptic and antiviral properties for protection and rejuvenation of dry, damaged skin. Because this is a solid lotion, it is very easy to travel with. Take it on airplanes — you never have to worry about leakages!
Buy Now
Looking for a refill? Get a Myronaturals Moisturizing Bar for only $10.50 without the tin. The bar is best stored in the tin, so simply pop the bar into the tin you already have!
Buy Now
Want to give Myronaturals Moisturizing Bars to your friends? Purchase packs of 10 Myronaturals Moisturizing Bars and get each bar for $12.00 each. Includes free domestic shipping!
(For international orders, please contact us.)
Buy Now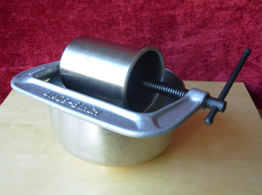 An affordable and well designed tincture press can save you money. This press is a must for anyone who wishes to optimize yield from infusions. The additional amount of fluid that can be extracted from your tinctures and oils can offset the cost of the press in just a few pressings. It also saves time and energy. The press is of simple design, consisting of a heavy duty 8″ C clamp, food grade stainless steel piston and 1 liter (1.25 quart) food grade stainless steel pot with reinforced bottom. It is very low maintenance, easy to clean, light weight and compact, making it idea for use at home, school, in the field or at your business. 10 year limited warranty. Myronaturals warranties pistons and pots against defects and breakage.
Click here
to see instruction sheet for the press [PDF].
Buy Now
The tincture press is currently out of stock, please check back at a later date.
Myronaturals Tincture Press
$180 + $19.95 shipping & handling (Priority Mail) Please contact us before placing an order to be delivered outside United States so that we can provide shipping costs
A beautiful children's book with an important message: enjoy the simple things in life and have fun with what you find in nature. This book is filled with gorgeous watercolor illustrations of children at play, along with a wonderful theme of enjoying each moment. Myron Cretney wrote the story, Leah Mebane created the illustrations. Together they combine their talents to show how simple things in life can be the most pleasurable… mud pies, flying a home-made kite, or creating music with friends. A story that resonates through the generations.
Hard cover: $17.95
[temporarily SOLD OUT Please check back]
Paperback: $9.95 Plus $4.95 shipping and handling
Buy Now
Hardback or Paperback
Hardback $17.95 USD Paperback $9.95 USD
About the author:
Myron Cretney has lived many years in the mountains of southern Oregon, playing music, writing songs and learning from nature. He enjoys learning and teaching earth-based living skills with people of all ages. Exploring ways we might live more sustainably (both socially and environmentally) is of ongoing interest for him. This is his first book.
About the artist:
Leah Mebane lives with her husband and son in Ashland, Oregon, where she is a full-time artist of commissioned portraits, illustrations and contemporary abstract paintings. Her abstract work is created exclusively with pigments that she collects directly from the earth and then hand-crafts into natural, non-toxic paint. She has also created "Earth Paint Kits" for children and adults (
www.naturalearthpaint.com
). She began illustrating this book while living in a small cob cabin, off the grid, in a beautiful patch of woods, and she greatly resonates with its message.
www.FanningArt.com
Our lotion bar, Myronaturals Moisturizing Bar, has proven to be a very effective natural remedy for many people with chapped lips, dry skin, itchy ski
Read More
Looking for a refill? Get a Myronaturals Moisturizing Bar for only $10.50 without the tin. The bar is best stored in the tin, so simply pop the bar in
Read More
Want to give Myronaturals Moisturizing Bars to your friends? Purchase packs of 10 Myronaturals Moisturizing Bars and get each bar for $12.00 each. Inc
Read More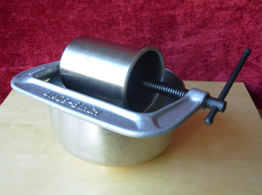 An affordable and well designed tincture press can save you money. This press is a must for anyone who wishes to optimize yield from infusions. The ad
Read More
A beautiful children's book with an important message: enjoy the simple things in life and have fun with what you find in nature. This book is fille
Read More